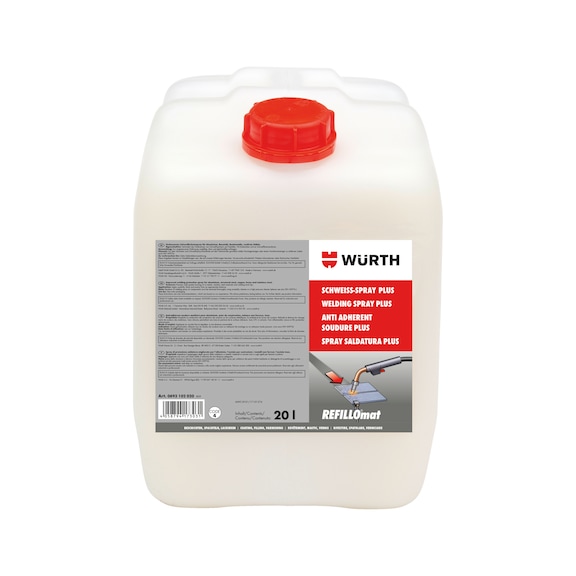 For detailed information, other images and documents, please select individual articles from the following table.
Biological welding protection spray for aluminium, structural steel, non-ferrous metals, stainless steel
Show availability in Würth trade store
If you have any questions, please call our service hotline at +353 61 430200.
You are not yet a Würth customer or do not yet have access data to the Online Shop? Then
register now
in just a few steps. After a successful check of the entered data, you will have immediate access to the stock inquiry as well as all prices and can immediately order.
Exclusively for trade customers
Register now and access more than 15,000 products
Call customer service: +353 61 430200
Exclusively for trade customers
Register now and access more than 15,000 products
Call customer service: +353 61 430200
Prices for customers after login
Prevents burning-on of weld splatter on stainless steel, steel and other metals and on welding torch tips
Contributes towards optimum welding work. Starting points for corrosion are prevented
Cooling effect
Discolouration is reduced when welding stainless steel
Silicone-free
Subsequent treatments such as painting are not adversely affected
Contents are identical to natural substances
Free of hydrocarbons and other solvents


The thin film simultaneously acts as temporary corrosion protection
Weld spray residues are easy to remove
Zinc-plating and painting are then easily possible
Notice
Release agents must always be applied sparingly. This is necessary to prevent pores from forming in the weld material and hydrogen-induced cracking from forming in delicate steel and under critical stresses. Prior to zinc-plating, welding spray residues on the workpieces must be thoroughly removed using an assembly power cleaner or a high-pressure cleaner.
This information is only a recommendation based on our experience. Preliminary testing required.
Application area
Welding of stainless steel, steel and other metals


Protection of welding tips and welding accessories


Vehicle construction, special construction, steel construction, container and boiler construction, crane construction, automotive and supplier industry and other metalworking industry


For laser cutting: Prevents slag formation where the laser penetrates the material. Traces of powder on the inside can be removed more easily. The cut edges are clean and no additional finishing is required
Select RAL-colour code
!! NOTE: On-screen visualisation of the colour differs from real colour shade!!