UV 30 sun protection cream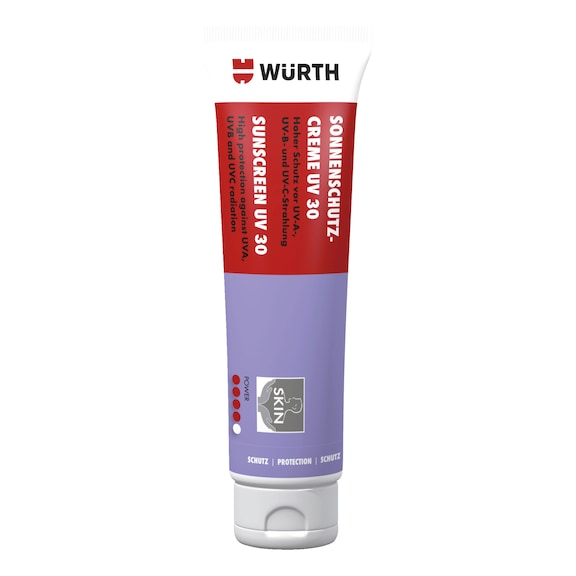 For detailed information, other images and documents, please select individual articles from the following table.
UV 30 sun protection cream
Extra waterproof protection from natural and artificial UV-A, UV-B and UV-C rays with SPF UV-A 24/UV-B 30.
Show availability in Würth trade store
If you have any questions, please call our service hotline at +353 61 430200.
You are not yet a Würth customer or do not yet have access data to the Online Shop? Then
register now
in just a few steps. After a successful check of the entered data, you will have immediate access to the stock inquiry as well as all prices and can immediately order.
Exclusively for trade customers
Register now and access more than 15,000 products
Call customer service: +353 61 430200

Exclusively for trade customers
Register now and access more than 15,000 products
Call customer service: +353 61 430200
Prices for customers after login
Protects and nourishes
Optimised UV filter with silicone coating


Vitamin E acetate smooths and softens the skin, while protecting it from cell damage


Fragrance free
Also protects against welder's sunburn
By protecting against UV-C rays that occur during welding.
Extra waterproof
Maintains protection from light, even when sweating heavily or when working in a watery environment.
Dermatologically tested
Notice
The skin tolerance of UV 30 sun protection cream has been carefully tested and proven. Using UV absorbers does not relieve you of the obligation to employ other specified protective measures. The intense midday sun should be avoided. Even sun creams with a high UV protection factor do not provide complete protection against UV rays.
For applications in the metal-working industry involving surface treatment and painting work, a special product specifically designed for artificial UV rays without a silicone coating should be used.
The usage instructions are recommendations based on the tests we have conducted and are based on our experience; carry out your own tests before each application. Due to the large number of applications and storage and processing conditions, we do not assume any liability for a specific application result. Insofar as our free customer service provides technical information or acts as an advisory service, no responsibility is assumed by this service except where the advice or information given falls within the scope of our specified, contractually agreed service or the advisor was acting deliberately. We guarantee the consistent quality of our products. We reserve the right to make technical changes and carry out further development.
Application area
UV 30 sun protection cream is used in workplaces where there is intensive natural UV radiation, e.g. when working outdoors, and when working with artificial sources of UV radiation, such as electric welding. Protection against high natural UV radiation during outdoor work.
Instructions
Before working or before intensive light exposure, evenly apply the UV 30 sun protection cream onto clean, dry skin. The amount applied depends on the skin area to be covered, e.g. a hazelnut-sized amount for the hands. Apply generously, as small amounts provide only slight protection. To maintain photoprotection, the UV 30 sun protection cream should be applied a number of times. In particular, UV 30 sun protection cream must be reapplied after washing. However, a renewed application does not extend the photoprotection time; rather it only restores the level of protection that had been reduced in the meantime. It is always best to reapply the protective coating every two hours.
Select RAL-colour code
!! NOTE: On-screen visualisation of the colour differs from real colour shade!!